These are the artists leading workshops at VIVO.

If you're interested in leading a workshop at VIVO, contact Pietro at education@vivomediaarts.com. If you have little experience designing and leading workshops, but want to give it a try, Pietro will gladly help you develop your idea!
---
Fran Breden
Frances Breden has been teaching filmmaking and video production since 2009 at VIVO and the Gulf Islands Film and Television School. She's a senior design and media arts student at Simon Fraser University, and a core member of art collective COVEN BERLIN (covenberlin.com). Her most recent video project is here: http://vandocument.com/2016/05/hong-kong-exile-in-studio
---
Flick Harrison
Flick Harrison (flickharrison.com) is a writer, media artist, filmmaker, hacker and drone pilot in Vancouver. "I've explored boundaries of all kinds in media, politics, education and the arts for over twenty years.  As an artist, I explode the aesthetics of political conflict; as an educator, I try to make media flow organically from the social.  My ambition is to lead, support and challenge non-profits, schools, community groups and other progressive actors to improve their understanding and use of media, all while having fun."

Photo: Sheng Ho 2013 Vandocument

Alexandre Klinke
Alexandre Klinke (alexandreklinke.com) is a Brazilian music composer, performer, and sound designer for film & TV, based in Vancouver, Canada. With background as a jazz and classical guitarist, his work as a composer reflects an eclectic style that ranges from orchestral to electronic, jazz and rock. As a solo artist, he is heavily inspired by the harmonies and intricate rhythms from Brazilian music. He is also an Instructor at the Digital Music Production Program at Langara College, in Vancouver.
---
Helena Krobath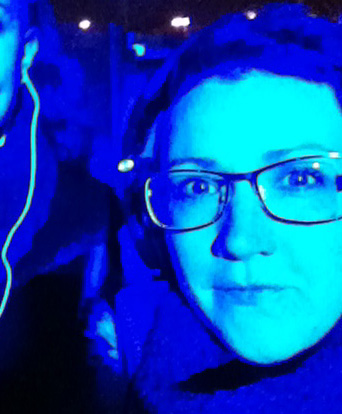 Helena Krobath is a researcher and multimedia artist currently completing her MA in Media Studies at Concordia, Montreal. Her research explores sensory phenomenology of place, as well as resource heritage and development in semi-rural colonial settlement. Her thesis fieldwork took place in forestry sites of Mission, British Columbia. She has taught listening and field recording workshops for the Milieux Institute and the Simone de Beauvoir Summer Institute, among others. Read the Milieux Institute's interview with Helena here.
---
Simon Lyons
Simon Lyons is a physicist, engineer and experimenter who enjoys exploring the creative possibilities of technology, primarily electronics – both analog and digital. Having taught for four years in Vancouver, his priority now is to develop engaging and open-ended experiential learning opportunities that challenge the technology-as-sealed-black-box stereotype and get people involved in their own technological evolution. He is a cofounder of MakerMobile.org, a local collaborative venture featuring a unique multipurpose mobile workspace and hacker lab.
---
Alysha Seriani

Alysha Seriani is a filmmaker and producer living and working in Vancouver, BC. A recent graduate of Simon Fraser University's School for the Contemporary Arts' film program, she has directed and produced independent films and artist projects that have exhibited at film festivals and galleries such as the Vancouver International Film Festival, Festival du Nouveau Cinéma, IMAGES, Inside Out LGBT Film Festival, SFU Galleries and others around the world. Currently Alysha is focusing her own practice on soundscape composition and field recording, while completing post-production for two film projects.