Here's a list of local media artists recently leading workshops and mentorships at VIVO.

If you're interested in leading a workshop at VIVO, contact Pietro at education@vivomediaarts.com. If you have little experience designing and leading workshops, but want to give it a try, Pietro will gladly help you develop your idea!
---
Alex de Boer
Alex de Boer is a journalist and nonfiction storyteller based in Vancouver. Alex is the Podcast Coordinator at CiTR 101.9FM where she heads the station's Spoken Word Department. She is a reporter and producer on CiTR's weekly news show, Democracy Watch and the Vancouver current affairs podcast, At-Large (formerly Seeking Office). Alex holds a Bachelor of Arts in Political Science and History and a Master's of Journalism from the University of British Columbia. She is the the 2017 winner of the Norman Lidster Prize in Documentary Filmmaking and received the award for "Best in News Programming" and an honourable mention for her audio documentary "Lhamo & the Princess," at the 2018 NCRA Community Radio Awards.
---
Victoria Gibson
Victoria Gibson is an Integrated Media Artist who blends sound + light + motion to create amazing art experiences. Making magic from advanced techniques to spark curiosity. Involving audiences with interactive technology such as gesture control resulting in complex, experimental works that emerge from the nexus of art and technology, but remain accessible and fun. Gibson holds a BA in Music from the University of British Columbia.
---
Flick Harrison
Flick Harrison (flickharrison.com) is a writer, media artist, filmmaker, hacker and drone pilot in Vancouver. "I've explored boundaries of all kinds in media, politics, education and the arts for over twenty years.  As an artist, I explode the aesthetics of political conflict; as an educator, I try to make media flow organically from the social.  My ambition is to lead, support and challenge non-profits, schools, community groups and other progressive actors to improve their understanding and use of media, all while having fun."

Photo: Sheng Ho 2013 Vandocument

Clark Henderson
Clark Henderson is a founding member of PAVED artist run centre in Saskatoon and comes to VIVO with many years of experience in both commercial and independent productions. He works as an assistant editor in the film and television industry, including Bella Ciao!, Paramedics: Emergency Response, Two Men in Boat Chasing Spring, The Shopping Bags, Storm Warning, The Devil You Know, Very Bad Men, and Mythos. Clark is also VIVO's Technician & Distribution Assistant, operating the dubbing room to capture old videotapes for the archives, sending out works to festivals, and all sorts of other things. He likes cats and the colour turquoise.
Chris Jung
Chris Jung (chrishjung.com) is a painter, musician, draftsman and writer, holding a Masters of Applied Arts from Emily Carr University, a Bachelor of Fine Arts from UBC, and a diploma in Design and Drafting Technology from the Northern Alberta Institute of Technology. His art practice researches ways of representing subjectivity and chaotic systems. He has participated in group exhibitions at the Gam Gallery and Charles H Scott Gallery in Vancouver, British Columbia.
Alexandre Klinke
Alexandre Klinke (alexandreklinke.com) is a Brazilian music composer, performer, and sound designer for film & TV, based in Vancouver, Canada. With background as a jazz and classical guitarist, his work as a composer reflects an eclectic style that ranges from orchestral to electronic, jazz and rock. As a solo artist, he is heavily inspired by the harmonies and intricate rhythms from Brazilian music. He is also an Instructor at the Digital Music Production Program at Langara College, in Vancouver.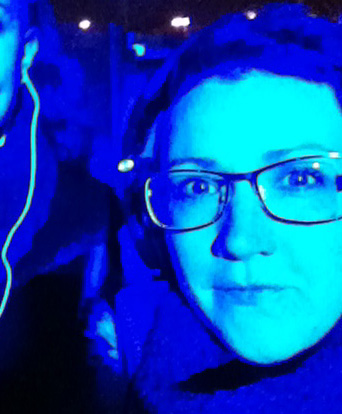 Helena Krobath is a researcher and multimedia artist currently completing her MA in Media Studies at Concordia, Montreal. Her research explores sensory phenomenology of place, as well as resource heritage and development in semi-rural colonial settlement. Her thesis fieldwork took place in forestry sites of Mission, British Columbia. She has taught listening and field recording workshops for the Milieux Institute and the Simone de Beauvoir Summer Institute, among others. Read the Milieux Institute's interview with Helena here.
Sasha Ford is a researcher, theorist, and composer. Her practice is broadly concerned with the psychic and political stakes of aesthetic encounter, and most often takes the form of experimental electronics, art criticism, and philosophical writing. Recent work includes the 2017 essay and hybrid writing collection Ephemeral Institutions, as well as performances at the International Noise Conference in Miami, FL; the Ende Tymes Festival of Noise and Experimental Liberation in Brooklyn, NY; and the Lines of Flight Festival of Experimental Music in Dunedin, New Zealand. She holds an MA in Media Studies from Concordia University.  More info at sashaford.com
Brady Ciel Marks is the lead mentor for this project. She is a digital media artist who works with Sound, Light and Kinetics. She holds a Masters in Interactive Arts from Simon Fraser University (SFU) and an undergraduate degree with honours in Computer Science from the University of Cape Town, South Africa.
In conjunction with VIVO Media Arts Centre (Vancouver), Brady received Innovations grant funding from the British Columbia Arts Council for the research and creation of a Volumetric Display Device that generates interactive 3D sculptural images using light. The device was presented at the 2015 International Symposium on Electronic Art and at Science World at Telus World of Science. As a graduate of Simon Fraser University taught by faculty including original members of the World Soundscape Project (WSP) including Hildegard Westerkamp. Recently she presented a 24 Hour broadcast of a Saturna Island Soundscape, on Earth Day in sync to local time as part of the Wetland Project. She is a frequent host of Soundscape on Co-op Radio, as well as a member of the Vancouver Electronic Ensemble and a DJ working under the alias of furiousgreencloud.
As a teacher, Brady has guest lectured in SFU's School of Interactive Arts & Technology, Film Program, and School of Communication, where she also served as an external examiner. She has lead workshops in physical computing and digital media manipulation at VIVO Media Arts, where she also led the Still Creek Salmon Sounds mentorship in 2018.
---
Nathan Marsh
Nathan Marsh is a sound artist, educator and performer based in Vancouver primarily concerned with the concept of experience and "objecthood" in music. He emphasizes collaboration and physical involvement in the creation of his works, intending to draw people into the physicality of music as a lived experience rather than as a predominantly auditory phenomenon.
Nathan holds a BFA in Music from Simon Fraser University's School for the Contemporary Arts. Nathan is currently an Artist Mentor in Burnaby North Secondary School's Music and Technology Program in an initiative co-founded by the Western Front Society. Creation, performance, and education are key to structuring Nathan's artistic work.
---
George Rahi
George Rahi is a composer, sound artist, and instrument maker exploring new hybrids between the acoustic, electronic, mechanical, and sculptural. He works across a diverse array of interests including electro-acoustic music, public space, the soundscape, and large-scale instruments such as the pipe organ and the Indonesian Gamelan. He is a founding member of the percussion ensemble Gamelan Bike-Bike and art collective Publik Secrets, in residence at the Hadden Park fieldhouse in Vancouver since 2015. He has produced work for the Western Front, Vancouver New Music, Miscellaneous Productions, and Vancouver Co-op Radio's Media  Arts Committee. Recent projects include pulses // patterns, a sound installation using re-purposed pipe organ and electronic organ technology supported by the British Columbia Arts Council and the Western Front.  More info at georahi.com
Will Ross has been working in film and video since co-founding Sad Hill Media in 2009. His films have shown at the Vancouver International Film Festival, as well as TIFF, Moonrise, and Cinema Spectacular. Whether for his own projects or someone else's, his work behind the camera and the keyboard is always focused on finding fresh, gripping new approaches to filmmaking. As well as on-set direction, Will participates in the screenwriting, shotlisting, editing, and sound design stages of the process. His collaborations are marked by responsive communication and craftsmanship that are tailored to the sensibilities of his clients and teams. In addition, he maintains a blog of critical work, and his reviews and video essays have been published by outlets such as Tiny Mix Tapes and MUBI Notebook. To see his portfolio, visit sadhillmedia.com
Jennifer Schine is an award-winning sound artist, broadcaster, and community-engaged researcher whose work explores the oral histories and soundscapes of coastal British Columbia. Passionate about public engagement and collaborative projects, Jenni has extended her academic work into film, radio, electroacoustic composition, and installations. She holds a MA in Acoustic Communication from Simon Fraser University and a BA in Anthropology from the University of Victoria. From 2007 to 2013, Jennifer was an active member of the Vancouver Soundwalk Collective. She has worked closely with electroacoustic composer and activist, Hildegard Westerkamp, and in 2017 produced The Ecology of Sound: Hildegard Westerkampfor CBC Ideas, which has been re-broadcasted internationally.
As a sound scholar and artist, Jennifer teaches courses and workshops in both the city and the wilderness, including Acoustic Ethnography and Science Storytelling at the Bamfield Marine Science Centre. Jenni coordinates a residency at Salmon Coast Field Station in the Broughton Archipelago, B.C. that brings together scientists and arts to study salmon, and helped mentor VIVO's mentorship, Still Creek Salmon Sounds in 2018. She co-facilitated a five-day workshop, A Story from Hear: Place-based Podcasts at Hollyhock. Jenni currently serves on the board of the Salmon Coast Field Station Society, is the Arts, Culture, and Ethnographer Advisor for the Sfaira Foundation, and referees for the BC Studies Quarterly Journal's Soundworks section.
---
Devan Scott
Devan Scott's passion for visual storytelling inspired him to co-found Sad Hill Media, and has led to a portfolio of work as a director, cinematographer, and colourist that has been growing ever since. His work as a writer, director, cinematographer, and colourist has given him a comprehensive and reliable understanding of the creative decision-making involved throughout the production process. To see his portfolio, visit sadhillmedia.com
---
Alysha Seriani

Alysha Seriani (alyshaseriani.com) is a filmmaker and educator and has been a proud VIVO instructor since 2017. A graduate of Simon Fraser University's School for the Contemporary Arts' film program, she has directed, filmed and produced independent films and artist projects that have exhibited at film festivals and galleries such as the Berlinale, Vancouver International Film Festival, Images Festival, Inside Out LGBT Film Festival, the Contemporary Art Gallery and others around the world.
---
Marc St Pierre
Marc St Pierre is a researcher and a community engaged artist in the classroom. His main creative medium is data, which he maps to sound in a practice called sonification. In his lab as well as his maker space, Marc blurs the lines between science and art by building technology to express environmental data as sound. Fostering an ecological and environmental sensibility through data communication, his practice challenges and extends existing systems of scientific knowledge distribution. Marc has won a handful of awards for his work, the most recent being Best Use of Sound at the International Conference for Auditory Display for his publication on air quality sonification. He regularly teaches in a range of topics including programming, sound editing and making, and has also been commissioned to work with community organizations like City Opera Vancouver, the Vancouver Chamber Choir, and the City of Surrey among others.
---
Madeline Taylor
Madeline Taylor is a radio/podcast producer from Vancouver, British Columbia, with credits at ABC, the BBC and various campus/community stations. She has worked in Campus/Community radio since 2013, is the current Programming Director at CiTR 101.9FM, and sits on the Board of Directors for the National Campus/Community Radio Association.